With OpenHR Schedule Management you will have total control of your employees' working hours
Plans weekly or longer-term shifts, and organizes employee assignments to match with workdays, days off, vacations, absences, etc. Employees will be notified of published (or modified) schedules


Thus, by cross-referencing the employee's work calendar with absences or vacations, you can compare the actual and theoretical working hours that correspond to each employee, allowing you to detect the elements that will have an impact on their payroll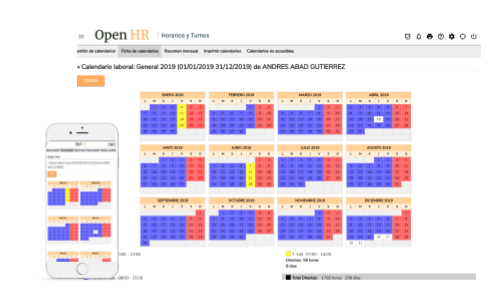 Monitor your team's hours with the advanced OpenHR Schedule Management system, giving you total control of your team's schedules and quadrants. Offer transparency when you have to eliminate, modify, cover peak workloads or staff turnovers... make any schedule changes you need from any device and enable users to have access from their smartphone. work laptop or PC.
Visualize, create alerts and make use of those indicators that you are most interested in analyzing (absence or timekeeping incidents, duration of an activity, excess hours dedicated to an activity, shifts per employee depending on the team or location, etc.)
Fast detection of conflicts and anomalies. Thanks to OpenHR's system you will be able to detect schedule conflicts that could occur ( warnings of shifts already assigned to the same employee, or alerts of absences and vacations connected to the calendar). Easily detect external anomalies that may affect company processes, such as changes in legal regulations or timekeeping.
Decentralization of processes allows users to clock in with OpenHR's timekeeping system,or by importing data from other registry devices. Thanks to OpenHR Timekeeping Management, employees will be able to clock in autonomously and in an unassisted way. Managers can administer times and employee schedules in a decentralized and autonomous way, making use of the powerful workflow that OpenHR system offers.