OpenHR Core solves your entire company's employee management, based on a multi-directional, multi-platform, multi-language internal communication system
Increases your company's productivity by integrating and distributing all personnel information
The core of OpenHR, called OpenHR Core, consists of a series of programs that gather all the basic functions so that any company, independent of its size, can implement a complete employee management.
With OpenHR you will be able to manage employees on your payroll, as well as freelancers or collaborators, regardless of the type of contract that each one has.
Based on a role system, each manager will see the users they are in charge of: site managers will be able to manage the people in their sites, whereas central services can manage the whole organization. Your company defines the chosen system.
OpenHR manages your entire workforce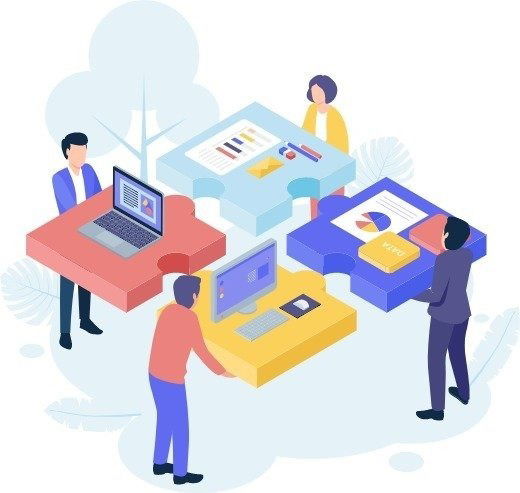 ---
Labour documents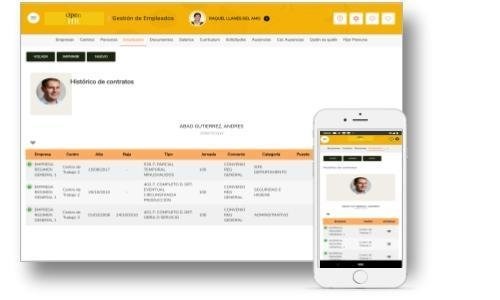 Thanks to the connection with your payroll, whether it be in sourced or in an external consultancy, OpenHR provides employees, middle management and management with all the employment and onboarding data..
This included onboarding history, storing all contracts for each employee with their data for each period.
---
Document management
Upload and distributes documents precisely when needed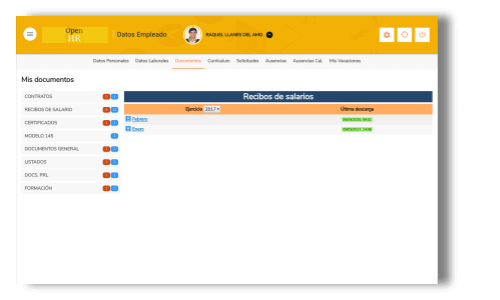 OpenHR includes complete document management. Including an automated import of payroll documents: from payslips to tax withholding certificates. It has its own document scanning system so that each document is associated with the corresponding employee.
The documents can be imported individually, or by filters, so that each user only sees the documents assigned to them.
The system allows segmented automation of the imports.
A digital signature is also automatically implemented in each document
The company and the employee will always be able to see their documents, the creation information and the incorporated digital signature, as well as the handwritten signature on the document (if required).
Automated uploading of documents and digital signature included
---


Requests
Automatic updates of employee data with a push of a button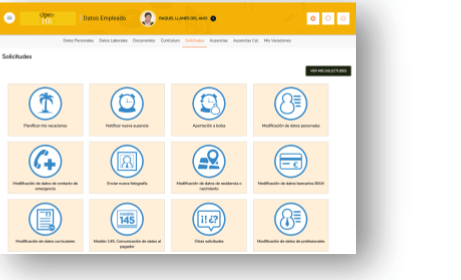 A whole request system allows employees to be able to solicit changes to their personal data. permitting us to save time on subsequent updates.
There are also requests for PPE, travel expenses, and ... much more. With OpenHR, your Company has the ability to create customized requests and check the status of existing ones.
Based on OpenHR's workflow, requests can be approved by an unlimited chain of managers. This chain can be personalized depending on each specific requirement.
The incorporation of a notification system by email, an alert on your mobile or through OpenHR itself, allows communication between employees and responsible at each state of each message. Thus, you guarantee that key activities are not lost along the way.
INTEGRATED IN A WORKFLOW AND A MULTI-DEVICE, MULTI-LANGUAGE AND MULTI-WAY NOTIFICATION SYSTEM
---
Absences and Vacation


Allow employees and middle management to plan jointly their vacation period and absences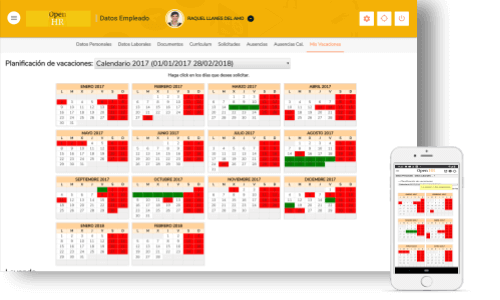 Absences can be completely parameterizable by the company, automated by hours and days. Limits can be defined to control the number of total absences.
Vacations can be designed by days or by hours. Multiple calendars per employee, with the possibility of being in several centers, in different projects or with various hourly contracts.
Calendars with non annual periods and defined by the user.
WITH OUR SYSTEM, THE EMPLOYEE REQUESTS AND THE MANAGER APPROVES OR CAN ARRANGE THEM DIRECTLY


---
Internal communication
Support, connect, and communicate
Fundamental to establish multidirectional communication between employees, middle management and management.
Among the tools that OpenHR offers you will find:
Company notice board
Employee bulletin board
Relevant web bookmarks
Documents to share with the organization. Template, style sheets, reports, corporate guidelines, ... so many that we can't name them all!
Images to share with the staff. Logos, corporate images, events, etc.
A Who's Who to establish the organizational structure of the company.
Business chat for a more agile communication.

User groups. Continue to interact with employees depending on functionalities, projects in progress, and the position within the organization: activate suggestion boxes and ideas, collaborative agendas between departments or groups within the company, as well as other publication spaces for the user in specific channels.



---


Surveys
Allows users to express their opinions through surveys that can be customized by the company

A system that allows you to create your own surveys and assign them in a personalized way to employees, departments and workplaces without the need for any external tools.
It prepares the questions and answers, with time limits and analysis of the answers. Unique or configurable surveys throughout time.
Measure the work environment of your employees with satisfaction data, and quickly locate keys to improvement within your company.
ANY MANAGER OF ANY DEPARTMENT CAN MAKE UP SURVEYS AND ASSIGN THEM TO THEIR WORKING GROUP


---
Reports
OpenHR has several systems to configure your own reports and analyze all the information collected from the database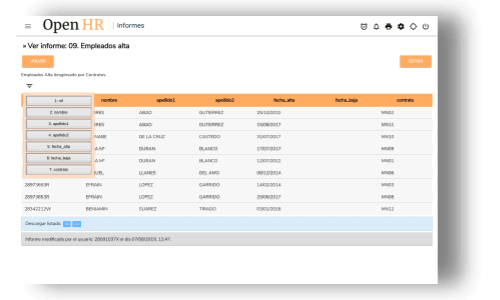 In the CORE you will find the reports available for everyone that do not require advanced knowledge in any specific subject for their usage.
The reports are customizable by each user, and can be stored to be used at anytime. Each user can generate, through existing templates, the reports they need even from a mobile device.
Each user only sees in each report the people they are in charge of. Forget about sending monthly or quarterly reports to the centres.
With OpenHR they will only have to launch them when needed from any device.
We also have a specific module, OpenBI, so that the client can develop more complex reports, with the same data already stored in OpenHR.


OPTIMIZE the employee's complete CYCLE IN THE ORGANIZATION THROUGH OPENHR TOOLS